From complex to customer friendly; AllThingsTalk and Sim Services forming a powerful partnership
AllThingsTalk, part of the international distribution group ALSO, is the IoT center of expertise enabling customers to get acquainted with IoT in an easy and affordable way. One of their offers is a Rapid Development Kit (RDK) which gives the opportunity to get a full swing IoT experience in a simple way. The complex world of IoT consists of multiple disciplines. AllThingsTalk has packed the four technologies: sensors, networks, platform and a first set of applications into one powerful RDK. Easy, affordable and with a 30 minute promise to a first IoT experiment.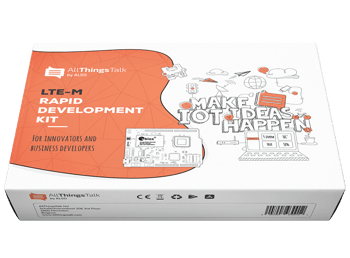 For the connectivity included with the LTE-M RDK AllThingsTalk partners with Sim Services, market leader in the field of independent and safe IoT connectivity. Customers are now able to make use of the RDK anywhere in the world, on any mobile network using known technologies like 2G, 3G and 4G but also new technologies like LTE-M and NB-IoT. These new mobile network technologies, also called LPWAN (Low-Power, Wide-Area Networks), are especially created to connect devices in a (power) efficient and reliable way. Besides a secure connection, insights and control are of great value to customers to allow them to scale IoT products and services. Therefore RDK customers get via the AllThingsTalk Dashboard access to the Sim Services management portal. In addition to actual data usage also unique functions such as an operator switch, location determination and a diagnose tool are available here.
Jeroen Gijzen, CCO at Sim Services underlines the importance of IoT in future business models. "Finding the right partners in this 'IoT journey' is crucial. What often starts as a nice to have proceeds via a driver for new business into a crucial pillar of the organisation. The expectations and customer demands of IoT enthusiasts will change during this journey. Fortunately we can trust on many years of experience by AllThingsTalk and Sim Services in their combined effort to launch a brand new concept which enables organisations to get the most out of IoT. There is no longer any barrier for companies to explore the infinite possibilities of IoT for their organization."
AllThingsTalk has always set itself the ambition to make IoT accessible to companies and individuals. This ambition requires extensive collaboration with partners in the IoT ecosystem to provide a unique experience. Stefaan Top, Director Sales at AllThingsTalk says: ''We have selected Sim Services as our RDK network partner, since they actually meet customer requirements for IoT connectivity: easy deployability, modularity and transparency."
Thanks to this new partnership the implementation of IoT within your organization could not be more safe and customer friendly. AllThingsTalk en Sim Services making your IoT journey a real dream flight.